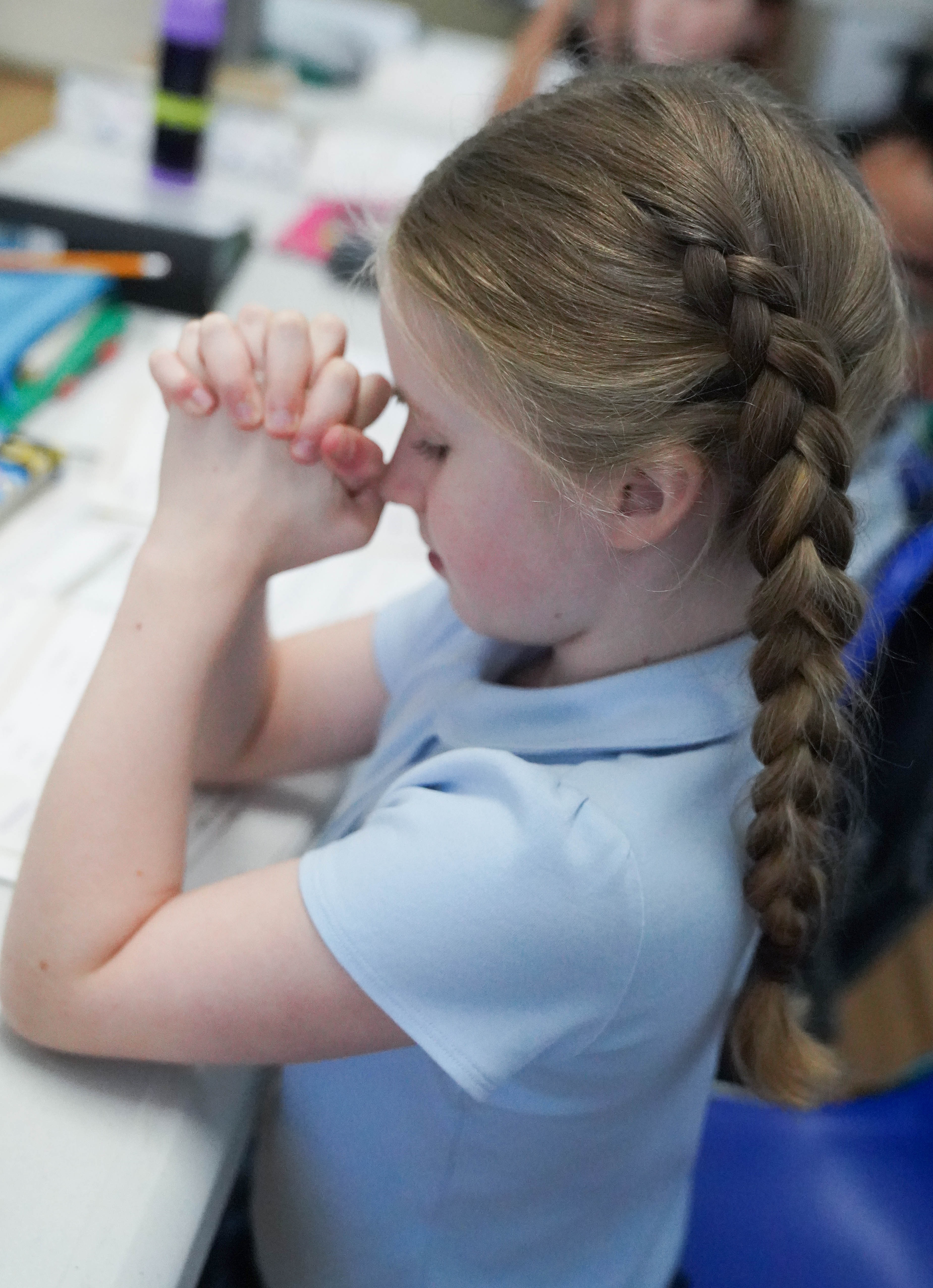 Statement of Faith
The ultimate basis of the Veritas Academy shall be the infallible and inerrant Word of God set forth in the Scriptures of the Old and New Testaments and the system of biblical doctrine of which is essentially summarized in the Westminster Confession of Faith and the Westminster Larger and Shorter Catechisms (collectively, "the Westminster Standards").
The mission, commitments, approach, and goals described above flow from the faith commitments of Veritas Academy. The program at Veritas is the direct consequence of its theological convictions. Our statement of faith does not exhaust the extent of our beliefs. The Bible itself, as defined by the 66 canonical books of the Old and New Testaments, is the inspired and infallible Word of God that speaks with final authority concerning truth, morality, and the proper conduct of mankind, is the sole and final source of all that we believe. For the purposes of Veritas Academy's faith, doctrine, practice, behavioral standards, policy, and discipline, our board of directors is the final interpretive authority on the Bible's
meaning and application.
The Veritas Academy Statement of Faith is for convenience divided into three sections:

I. Veritas Academy's primary doctrinal foundation is the Westminster Standards (2007, ISBN 978-0-9793770-0-6). We believe this historic confession is a faithful, comprehensive, and reliable exposition of Biblical teaching. The theology of the Westminster Standards is the bedrock of our Christian worldview and gives shape and substance to the entire curriculum.

II. Because, for purposes of Christian brotherly love and unity, the Bylaws allow exceptions for some board members (see Bylaws section 5.1(B)) and some directors, teachers and staff members (see Bylaws section 10.1(c)) to serve without affirming all the doctrines of the Westminster Standards, this section of the Statement of Faith describes the beliefs that those board members and those directors, teachers and staff members must affirm. These beliefs are also contained within the Westminster Standards.

(a) We believe in God the Father Almighty, Maker of heaven and earth, and in Jesus Christ His only Son, our Lord. Jesus Christ was conceived by the Holy Spirit, and was born of a virgin, Mary. He suffered under Pontius Pilate, was crucified, died, and was buried. He descended into Hades, and on the third day He rose again from the dead. He ascended into Heaven, where He sits at the right hand of God the Father Almighty. From Heaven He shall come to earth again to judge the living and the dead. We believe in the Holy Spirit, one holy catholic church, the communion of all true saints, the forgiveness of sins, the resurrection of the body, and the gift of everlasting life. (Apostle's Creed)
(b) We believe that God reveals Himself through the creation, preservation, and government of the universe. We believe that God makes Himself more clearly and fully known through the Scriptures, which are the only inerrant and infallible Word of God, our ultimate and final authoritative rule for faith and practice. These Scriptures are made up of 66 books, from Genesis to Revelation, the authority of which depend not upon the testimony of any man or church and are all to be received as the Word of God.
(c) We believe that there is but one living and true God, eternally existent in three Persons of one power, substance, and eternity—Father, Son and Holy Spirit. He is perfectly wise, the overflowing fountain of all good. He is omnipotent, omnipresent, and omniscient. In all things He is limited by nothing other than His own nature and character. We believe the God we serve is holy, righteous, good, loving, and full of mercy. He is the Creator, Sustainer, and Governor of all that has been made.
(d) We believe in the true deity and full humanity of our Lord Jesus Christ, such that two distinct natures, divine and human, were inseparably joined together in one person, without conversion, composition, or confusion. We believe in His virgin birth, in His sinless life, in His miracles, in His vicarious and atoning death through His shed blood, in His bodily resurrection, in His ascension to the right hand of the Father and in His personal return in power and glory.
(e) We believe that Adam was made from the dust of the ground and formed after God's image and likeness, which was good, righteous, and holy. Because of Adam's sin all mankind is in a state of rebellion against God. For the salvation of such lost and sinful men, regeneration by the Holy Spirit is absolutely necessary.

(f) We believe that salvation is by grace through faith alone, and that faith without works is dead. We believe that God freely justifies His own, not by infusing righteousness into them, but by pardoning their sins, and by accounting and accepting their persons as righteous, for the sake of Jesus Christ alone.
(g) Justification is by grace alone through faith alone and through it the undeserving sinner is clothed with the righteousness of Christ.
(h) We believe in the present ministry of the Holy Spirit, by whose indwelling the Christian is enabled to live a godly life, as the Spirit of Christ within us enables us to do freely and cheerfully what the will of God revealed in Scripture requires to be done. We believe that good works are only those which arise from true faith, conform to God's Word, and are done for His glory.
(i) We believe God has appointed a day when He will judge the world in righteousness through Jesus Christ. We believe in the resurrection of both the saved and the lost; those who are saved to the resurrection of life, and those who are lost to the resurrection of damnation.
(j) We believe in the spiritual unity of all believers in our Lord Jesus Christ. All who are united to Christ as Head of the Church are united to one another in love and have communion in each other's gifts and graces.
(k) We believe that God defined marriage as the life-long covenant between one man and one woman, and that all forms of sexual activity outside of marriage are sin.
(l) We believe that God immutably creates each person to reflect His image as male or female.
III. The following section of the Statement of Faith contains Veritas Academy's Beliefs on the Sanctity of Life, Marriage, Gender, and Sexuality, which shall be affirmed and adopted by all board members, administrators, directors, teachers, and staff.

(a) We believe that all human life is sacred and created by God in His image. Human life is of inestimable worth in all its dimensions, including pre-born babies, the aged, the physically and mentally challenged, and every other stage or condition from conception through natural death. We are therefore called to defend, protect, and value all human life.
(b) We believe that God wonderfully and immutably creates each person as male or female. These two distinct, complimentary genders and sexes together reflect the image of God (Gen 1:26-17). Rejection on one's biological sex is the rejection of the image of God within that person.
(c) We believe that the term "marriage" has only one meaning: the uniting of one man and one woman in a single, exclusive union, as delineated in Scripture (Gen 2:18-25). We believe that God intends sexual intimacy to occur only between a man and a woman who are married to each other (I Cor 6:18; 7:2-5; Heb 13:4). We believe that God commanded that no intimate sexual activity be engaged in outside of marriage between a man and a woman.
(d) We believe that any form of sexual immorality (including adultery, fornication, homosexual; behavior, bisexual conduct, bestiality, incest, and use of pornography) is contrary to the Bible's teaching, is sinful, and offensive to God (Matt 5:18-20; I Cor 6:9-10).
(e) We believe that in order to preserve the function and integrity of Veritas Academy as a Christian school under the authority of the Scriptures, and to provide a biblical role model to our students and school community, it is imperative that all persons employed by Veritas Academy in any capacity, or who serve as volunteers in any capacity, agree to and abide by this Statement on the Sanctity of Life, Marriage, Gender, and Sexuality (Matt 5:16, Phil 2:14-16, I Thes 5:22).
(f) We believe that every person must be afforded compassion, love, kindness, respect, and dignity (Mark 12:28-31; Luke 6:31). Hateful and harassing behavior or attitudes directed toward any individual are not allowed, are to be repudiated, and are not in accord with Scripture and the beliefs of Veritas Academy.